Full Circle's Individual Counseling Practice is beginning a gradual reopening for face to face appointments. While we look forward to seeing our clients again at our Center, we acknowledge this is a fluid situation and will continue to monitor the governor's recommendations to determine if we need to scale this back at any time.
For those joining us at our Center, information below explains what to expect:
Each staff member and client will be expected to complete a health screening and temperature check upon arrival. Please review our health screening information below prior to your appointment to ensure you meet our thresholds for an office visit. Temperatures will be checked with a contact-free forehead thermometer. Counseling appointments can be transferred to telehealth if necessary for any reason.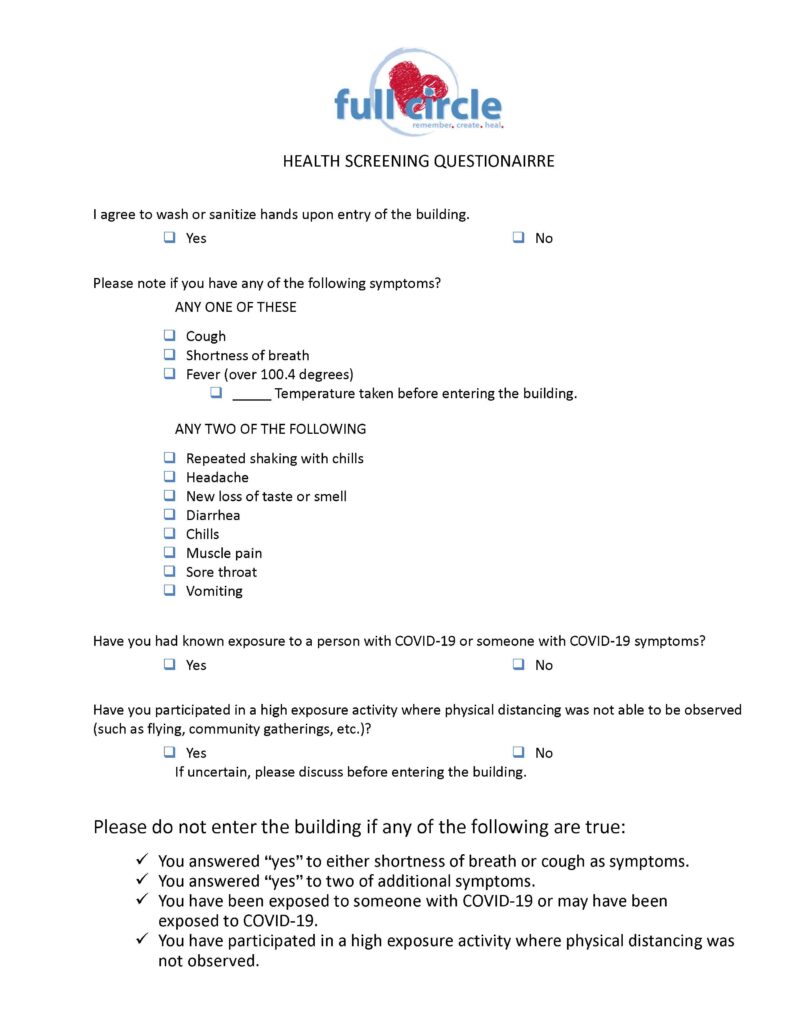 Clients are asked to wait in their car upon arrival and call 804.308.0118. A Full Circle staff member meets you at your car to conduct your health screening when your counseling room is ready, and then show you directly to your room.
Masks are required for clients and therapists at all times in our building.
Only rooms where we can effectively practice social distancing will be utilized for counseling at this time.
Clients under the age of 12 may have one adult accompany them into the building. Masks and social distancing are required while the accompanying adult is in our waiting room.
In addition to nightly cleaning our entire center, our rooms will be sanitized between appointments. Cleaning supplies will be available for clients if you prefer to clean your space prior to the start of your appointment.
With cleaning protocol between appointments, we will do our best to start and end all appointments on time. Please help us by being 10 minutes early so health screenings can be conducted.
We have modified our cancellation policy as we transition back into the center. Please cancel your appointment at least 8 hours in advance to avoid being charged our $50 cancellation fee. To transition from in person to a telehealth appointment, please notify your therapist at least two hours in advance if possible.
Thank you for your continued support and patience during these times.