Thank you for visiting our website to learn more about us. We hope you find this information informative. Please contact us with any questions or suggestions.
---
Guiding Principles
We believe that a circle represents many aspects of our mission at Full Circle. We have worked to create a circle of support where children and families experiencing loss can find hope and start the healing process in a safe, trusting environment.
Creation of the Full Circle Group Model
With curriculum designed by a regional bereavement expert, Allyson Drake, MEd, CT, using a model from the National Child Traumatic Stress Network, Full Circle incorporates best practices for helping families grieve. All groups emphasize the importance of teaching coping skills and feelings identification as well as how to effectively support others while healing themselves.
Our goals are to help grieving individuals:
Strengthen Family through Grief: increase communication between family members to strengthen family ties so they can support each other during grieving
Learn Coping Skills: identify healthy ways to deal with traumatic events and their long grief journey
Reduce Isolation: build support networks within and outside of the family
Heal through Creative Expression: use creative expression to strengthen communication and process feelings
In other words, anyone is welcome inside the circle, regardless of where they are on their grief journey.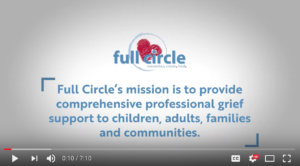 Please take a few moments to watch this video on the history of Full Circle.
Our Approach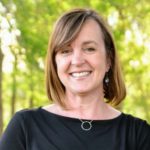 Full Circle was established in September 2008 by Allyson Drake, M.Ed., CT, as a comprehensive grief resource center for children, adults, and families.
Full Circle is very unique in its approach to bereavement care:
We are the only organization in Richmond to provide bereavement groups for extended families along with concurrent peer groups. Families learn to grieve together rather than in isolation.
We are the only organization to provide professionally-led suicide loss groups and perinatal loss groups. Our goal in the two years is to add a homicide loss group and a group for those who have lost a loved one to overdose.
We are also the only organization in Richmond to provide bereavement support to grieving students at their inner-city school or community organization. The need is so high that we are focusing our efforts on traumatic death.
We combine professionally-designed grief support programs with creative expression in the form of art, music, play, dance and journaling to trigger discussions that may not have occurred otherwise.
Our approach provides children and adults with a safe, nurturing, and caring environment to express their grief and their feelings. It's a place where healing begins.
At Full Circle, families and individuals find:
Trained, nurturing grief counselors
Supportive peer groups
Creative outlets
Acceptance of experiences and feelings
Opportunity to play
A chance to remember and commemorate their loved one
We believe in the:

Power of the group process
Benefits of creative expression
Importance of groups being facilitated by experienced professionals
Need to assist the entire family, not just the child
Importance of providing grief support to all individuals, regardless of ability to pay
---
Grief Counseling and Groups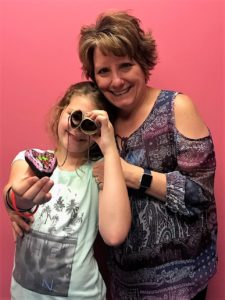 Full Circle offers a variety of programs for families and individuals to provide support, resources, and help during the grieving process and beyond.
Counseling Groups for Adults and Families:
Hands On Healing Group for children ages 3-18 and their families
Perinatal Loss Group for parents who are grieving the death of a baby
Suicide Loss Group for adults grieving a loss by suicide
Overdose Loss Group for adults grieving the death of a loved one due to an overdose
Individual Counseling
One-on-one counseling services for children (ages 3-18) and adults grieving the death of a loved one.
We strive to provide a personalized approach to grief support, working to understand a person's current needs and offering a safe place of acceptance to work through these needs.
Our professionals utilize our extensive knowledge of grief and loss to help individuals move forward in their grief journey and learn to understand and accept a "new normal."
We specialize in grief and loss, traumatic grief, and anticipatory grief.
Outreach Groups for At-Risk Youth:
Groups held at inner-city schools and community partner sites: ChildSavers, Richmond Redevelopment and Housing Authority, Friends Association for Children, and Virginia Home for Boys and Girls
Grief Education:
Bereavement training for local professionals and community members
Publishing and continuously updating the area's first and only comprehensive Bereavement Resource Manual
For more information on available programs, please click the links below.
---
Board Members and Advisors
Full Circle is honored to have dedicated people serving on our Board of Directors, our Junior Board of Directors, and as Strategic Advisors. Please click the link below for a list of current Board members and advisors supporting our mission.
Meet Our Staff
Learn more about the heart and soul of Full Circle – clinical team, development team, and operations team.
"Memory is a way of holding onto the things you love, the things you are, the things you never want to lose."
Source: The Wonder Years