Welcome to Family Fridays — a 10-week series designed to give parents and children fun, meaningful activities you can do at home to explore feelings of grief and remember your loved one in unique ways.
This activity is an opportunity for you to express your feelings in a fun and creative way by making your own mandala.
Mandala is a Sanskrit word that means "Circle." Here at Full Circle, we believe that circles also symbolize the connectedness we have with all people, including our lost loved ones. Today we will be using mandalas as a way to practice mindfulness.
The best part of making mandalas is that you can make them out of everything! You can use paper, drawing tools and craft supplies, but can also create a mandala outside by using materials in nature such as sticks, leaves and rocks or by simply using materials you can find inside like different shaped pasta, dried beans or beads.
After you choose what materials you'd like to use, create a circle. You can use paper, cardboard, pipe cleaners or a line in the dirt (if you're making yours outdoors) to make your circle.
Next use the supplies you've chosen to fill in your mandala in any way that inspires you. Put on some calming music and just go for it!
You can make your mandala about specific feelings: how you feel today, your feelings of grief, or what makes you happy.
Be creative, allow your mind to wander, and enjoy the process.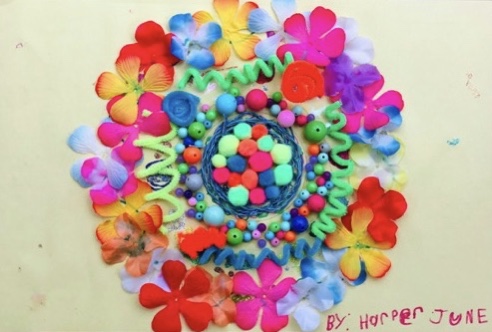 Full Circle is committed to our community and in our continued effort to serve, adapt, and connect with our participants (past, current, and future).
We'd love to see your Family Friday activity! Please share photos on Facebook or Instagram or send your a photo of your Family Friday project to HOHgroups@fullcirclegc.org.